Apple Crisp 3 Ways
September 22nd marked the first day of the fall equinox. Cooler weather has set in quickly and it's bittersweet. I'm going to miss having my car windows rolled down and wearing sundresses. Summer was full of grilled steaks and late night ice cream trips. I'll be sad to say goodbye to 9 p.m. sunsets but let's face it, this summer in Connecticut was extremely humid and I'm OK taking a break.
I'm ready to let flannel blankets, chilly breezes, and crock pot meals consume me. Don't fight it.
Like summer, fall brings great food. But unlike summer, this time of year allows you to indulge in piping hot dishes, savory or sweet. In the true spirit of fall, today I share my three favorite ways to make apple crisp! Nothing can warm you up quite like this dessert. When paired with a cool, sweet scoop of vanilla ice cream, it transports you to Autumn paradise!
1. Grain Free
I eat primarily grain free. This has helped reduce inflammation in my body as well as countless other benefits. I also eat a low-glycemic diet so when making my apple crisp, I skip the brown sugar and oats. I love this grain free recipe from Living Well Mom because it has the best of both worlds. You can find the original recipe here.
Ingredients:
4 apples
2 tsp lemon juice
1 Tbsp vanilla extract, divided
1 Tbsp cinnamon, divided (I use Saigon cinnamon)
½ tsp nutmeg
1 cup almond flour – I use this
¼ cup coconut oil
½ cup pecans, chopped
Instructions:
Preheat your oven to 400 degrees.
Core, peel, and thinly slice the apples. Toss the apples with the lemon juice and 2 tsp vanilla extract. Add 2 tsp cinnamon, and nutmeg and toss again. Place in an 8×8″ baking dish.
Melt the coconut oil, then mix in the almond flour, pecans, and 1 tsp cinnamon.
Sprinkle over the apples, then sprinkle the remaining 1 tsp vanilla extract over everything.
Bake at 400 degrees for 20 minutes covered, then another 10-20 uncovered. The apples should be somewhat soft and bubbling when it's finished.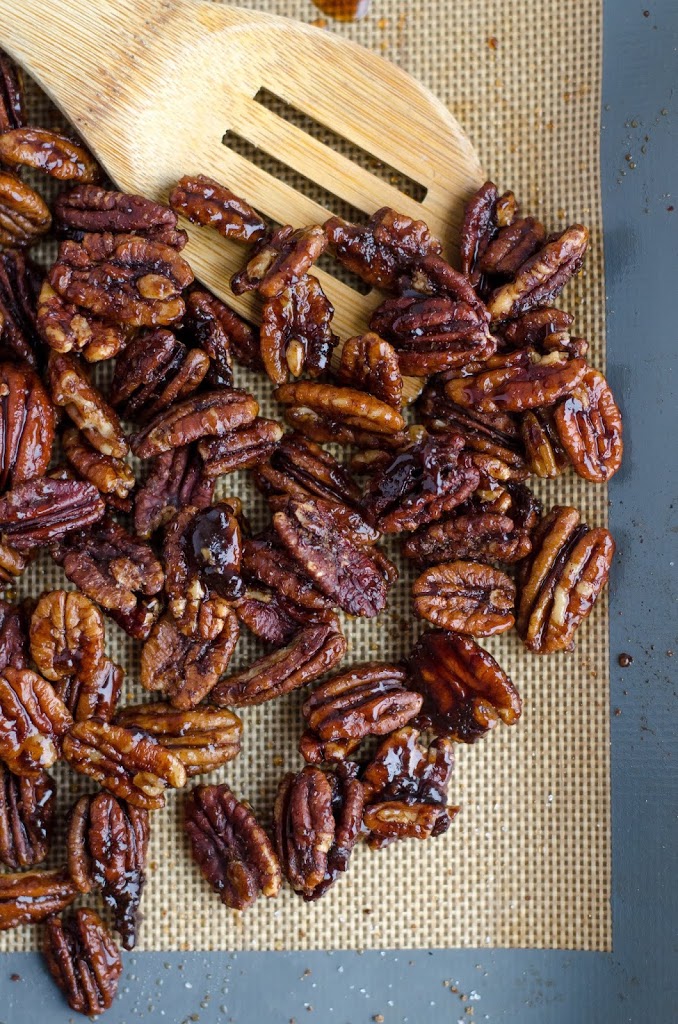 2. The Classic
Before I changed my way of eating to grain and sugar free, Betty Crocker's apple crisp was my favorite! For those of you that don't mind either sugar or grains, this is the ultimate classic fall recipe. You can get the original recipe here.
Ingredients:
4 medium tart cooking apples, sliced (4 cups)
¾ cup packed brown sugar
½ cup Gold Medal™ all-purpose flour
½ cup quick-cooking or old-fashioned oats
1/3 cup butter or margarine, softened SAVE $
¾ teaspoon ground cinnamon
¾ teaspoon ground nutmeg
Cream or Ice cream, if desired
Instructions:
Heat oven to 375ºF. Grease bottom and sides of an 8-inch square pan with shortening.
Spread apples in pan. In a medium bowl, stir remaining ingredients except cream until well mixed; sprinkle over apples.
Bake about 30 minutes or until topping is golden brown and apples are tender when pierced with a fork. Serve warm with cream.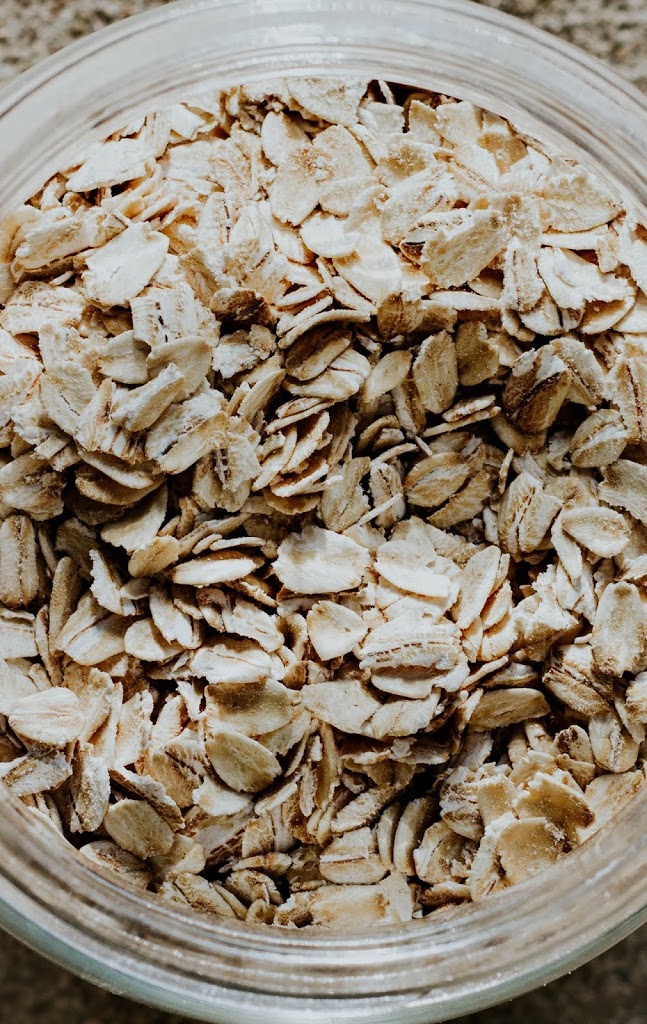 3. Bite Sized
OK, so I'm not quite sure if this counts but who cares! Apple crisp on the go is a thing and it comes in the form of a cookie! This recipe is worth the prep. Bring these to a party and they're guaranteed to be a hit. Maybe hide some for yourself because I'm sure they'll go fast! You can find the original recipe for these cookies on Dinner, then Dessert by clicking here.
Ingredients:
1 pie crust (you can make half that recipe)
5 Granny Smith apples , peeled and diced
¼ cup granulated sugar
1 teaspoon cinnamon
2 tablespoons lemon juice
1 tablespoon cornstarch
1 cup flour
½ cup granulated sugar
½ cup light brown sugar , packed
½ teaspoon kosher salt
2/3 cup rolled oats (not instant)
10 tablespoons cold unsalted butter , diced
Instructions:
Preheat oven to 350 degrees.
Add baking spray or grease regular muffin tin (you'll use it twice or spray two muffin tins).
Cut 24 two inch circles out of your pie crust.
If you need to gather your scraps and re-roll them to 1/4 inch thickness.
Add the pie crust to the muffin tins.
In a small saucepan add the apples, sugar, cinnamon, lemon juice and cornstarch.
Cook for 5-7 minutes until the apples are softened and thickened.
To make the crisp topping, add the flour, 1/2 cup sugar, 1/2 cup brown sugar, salt, oats and butter to a bowl and combine with either a hand mixer or pastry cutter.
Add one tablespoon of apple filling to each muffin well.
Add two tablespoons of the crumble topping on top.
Bake for 18-20 minutes. Let cool completely before carefully removing.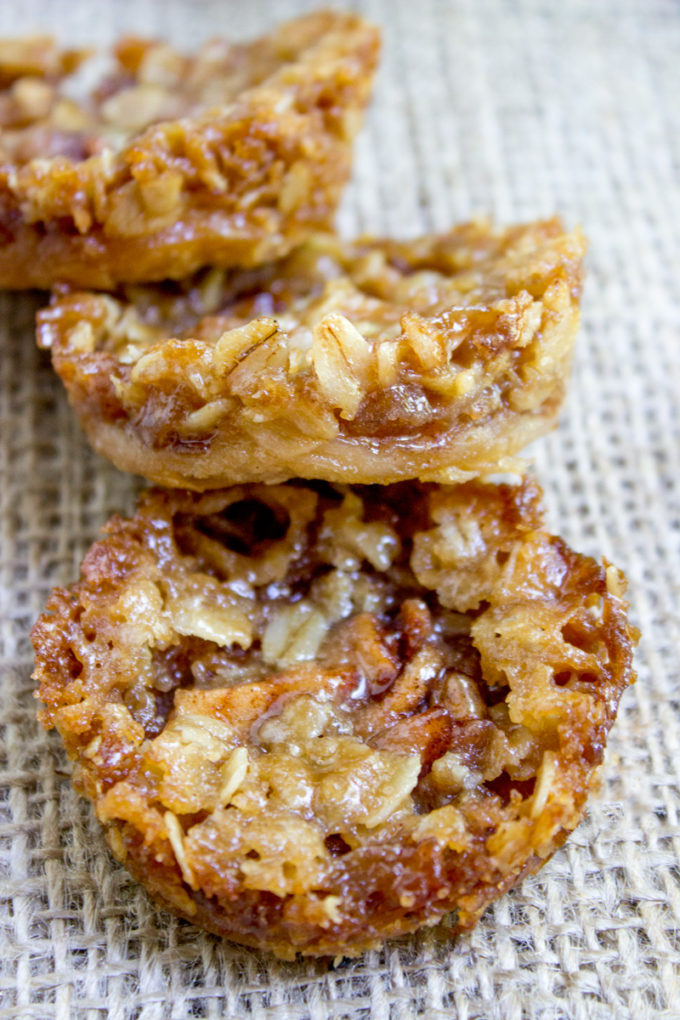 Copyright © 2018 Dinner, then Dessert.
Happy Baking! What's your favorite way to make apple crisp? Tell me in the comments below!